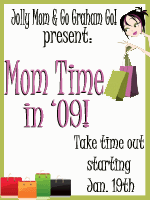 It has been a long time since I joined a contest and I hope I will win again this time. This contest is being sponsored by
Go Graham Go
and
Jolly Mom
.
I am joining this contest because I think it's really cool and makes moms like me think and ponder about the things that they do for their self - not as a mother. To join the contest, all you have to do is answer the question:
What is it that you do to take time for yourself?

When I am out of mother duties (which is not very often and is quite close to the word impossible), I try to relax and have power naps. We have to admit that mothers do not get that much sleep so the first thing I do when I am alone is lie down in the solitude of my bedroom and try to get some quiet time alone. When I am done with that, I try to cook for myself and treat myself for a foot spa or a relaxing massage. These are the things that I love doing and I am never guilty of spending some money for getting these kind of services because it gives me extra energy as I go back to my motherhood duties. When I am in the mood, I read novels which I snatch from my brother's mini library. And when I am inspired, I do some digital scrapbooking layouts and blog about them. See, I am not fond of going out of the house, I am close to being domesticated and I love every minute of it.
So that's my life as me. =) How about you?