It's now three days after the twin's baptism and I still don't know how to start the story of what had happened during that day. Basically because the whole day was a fiasco. I can describe the event in two words:
rowdy and riot
.
The schedule for baptism was 9 in the morning and by some fate we arrived at the church at 9:30. We were damn 30 minutes late and the baptismal rites were over. I asked the parish secretary on what should we do and they suggested that they can forward us to a very small community chapel in Krislamville (literally means Kristiyano at Islam) but the rites will only start after the regular Sunday mass which is 10:30. Unfortunately, the mass in Kirslamville started late because it was their patronal fiesta so we waited until we were all restless and the baptism only started at 11:30am. We were all hungry by the time the rites was finished. The chapel was so small, we could not have a decent picture. We didn't even have a picture with the parish priest (who conducted the baptism) because my cousin was hungry and sweating.
We were all pacified when we were in the van. Aircon at last! When we arrived at the reception, all the visitors were there and I saw my Kuya sleeping on the table (gives you the idea how late we were huh?). When we arrived, we started eating and eating and eating and eating.... And the day ended with eating.
With my temporary husband and Ninang Yami.
Ninong Gboy and Ninang Yami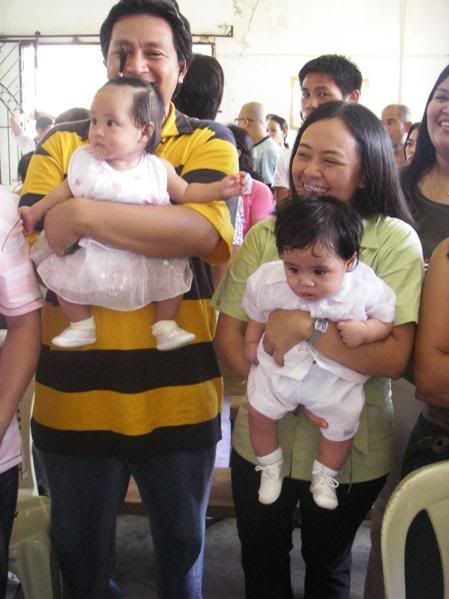 Hapi Pamily
With some of their Ninongs and Ninangs